First tickets released for the 70th Edinburgh Fringe Festival
This article is from 2017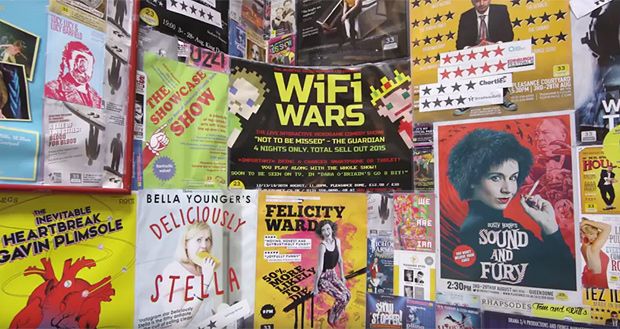 70th anniversary celebrations have begun with a ticket announcement and short film
It may have only been a few months since the Edinburgh Fringe packed up for the year but we're already looking ahead to the 2017 edition of the festival. Yes, we know it's only February but this year, the Fringe will be celebrating its 70th anniversary which means it's set to be a big one.
To start the celebrations with a bang, the first few shows of the 2017 programme have been announced, with tickets available over at edfringe.com. From comedy to music and everything in between, this release of tickets marks the first of many over the next four months, with the full programme to be announced 7 June.
As well as the ticket announcement, a new short film has been produced, kicking off the 70th anniversary countdown, with well-known faces from the world of entertainment explaining what the Fringe means to them. The film features comedians Rory Bremner, Susan Calman and Daniel Sloss, actresses Cora Bissett, Annette O'Toole, and Mary Lynn-Rajskub, and Fringe stalwarts Arthur Smith, Mark Thomas and Nicholas Parsons.
Sharing their thoughts on the Fringe, Susan Calman said 'for a comedian, the Fringe is like Christmas. We plan our entire year around it', while Arthur Smith branded the Fringe a 'playground of the imagination', and TV and Radio presenter Nicholas Parsons, who attended the inaugural Fringe in 1947, said 'it's a joy to be part of it, I just love it.'
Shona McCarthy, Chief Executive of the Edinburgh Festival Fringe Society says: '2017 promises to be one of the most exciting years in the history of the Fringe as we celebrate the 70th anniversary of this amazing festival and 70 years of Edinburgh as a world-renowned festival city. The Fringe continues to provide the world's largest platform for artistic freedom, attracting artists and audiences from all over the world, who come together every year for a truly international celebration of arts and culture. We are looking forward to unveiling further plans for the Fringe's 70th anniversary celebrations over the coming months.'
2017 Fringe ticket release dates:
02 February
02 March
23 March
20 April
11 May
25 May
07 June (full 2017 programme launch)
Meanwhile, check out our Top Rated Fringe shows from 2016.
The 2017 Fringe will run from 4–28 Aug 2017.