Whilst every effort has been made to ensure the information displayed here is accurate, always check with the venue before attending.
Edinburgh Festival Fringe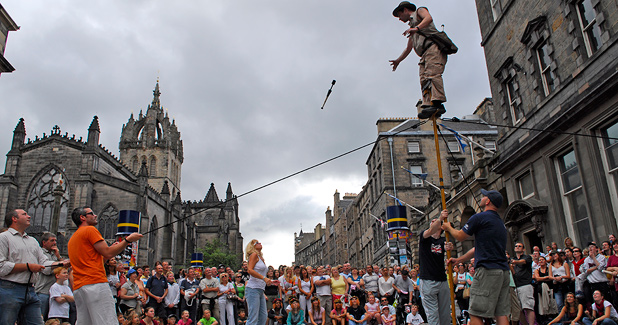 Sprawling, diverse and just a little bit crazy, The Edinburgh Festival Fringe is The Edinburgh Festival for the hordes of punters and performers that descend on the city every year. From its humble beginnings in 1947, when a handful of companies that hadn't been invited to appear in the inaugural Edinburgh International Festival decided to turn up and perform anyway, the Fringe has grown into the largest arts festival in the world. It has spawned copycat events everywhere from Dublin to New York, but nowhere has quite captured the heady exuberance and sheer diversity of the Scottish capital in August.
True to its founding spirit, the Fringe is open to anyone who can afford the journey. Student theatre companies rub shoulders with TV celebrities, Dutch comedians mix with Polish jazz musicians, and novices line up alongside seasoned pros. What unites this disparate bunch is the belief that they'll find a willing audience and the hope that their show will go down in Fringe lore. Of course, not everyone produces a Rosencrantz and Guildenstern Are Dead, a Stomp or a Black Watch, but the thrill of trying means they'll be back next year for more.
The Fringe takes place all over the city. Shows play not only in established year-round venues such as the Traverse Theatre, Cabaret Voltaire and The Stand comedy club, but also in ad-hoc spaces in rooms above pubs, public parks and even moving vehicles. Some venues, such as the Assembly Rooms, Gilded Balloon, Pleasance and Underbelly, are big enough to constitute a festival in their own right, although the smaller, unexpected places often host gems to be discovered. In addition to the weighty guide produced by the Fringe, detailing in excess of 30,000 performances of more than 2000 shows, many venues publish their own brochures. Others have established sub-festivals which also appear under the Fringe umbrella, such as The Edge, which brings together up-and-coming bands with major names, and the Edinburgh Comedy Festival, which promotes comedians appearing at the city's larger venues.
Official website: www.edfringe.com